Join our Women's Leadership Council for Dinner and an Evening with Judge Jennifer Brunner of Ohio's Tenth District Court of Appeals for her Unique Take on this Year's Most Unusual Election Season!
Don't Miss this Fascinating Evening & Dinner with Judge Brunner,
Ohio's First Female Secretary of State, serving from 2007 - 2011.
Both Men and Women Welcome.
United Way of Lake County's Women's Leadership Council's Speaker Series are great affairs with speakers to match. And this time, we're switching it up from our usual breakfast, to an evening dinner at Pine Ridge Country Club! 
Join us as we welcome Judge Jennifer Brunner of the Ohio Tenth District Court of Appeals, and Ohio's first female Secretary of State, serving from 2007 - 2011.
Judge Brunner will offer her unique perspective as a veteran of Ohio presidential elections during one of Ohio's and the country's most unusual election seasons. 
Having served as Ohio's first woman Secretary of State and administering the presidential election in 2008; as a candidate at the state, federal and county levels; as an elections attorney in private practice; and as both a trial and appellate court judge, she has seen presidential elections from a multitude of perspectives. For more on Jennifer Brunner, please scroll down to the bottom of page.
Don't Miss Judge Brunner's Inside Take on Today's Most Unusual Political Climate. Both women and men welcome.
Date:  Thursday, October 6
Time:  5:30 pm - 7:15 pm
Location: Pine Ridge Country Club • 30601 Ridge Rd, Wickliffe
Fee (includes dinner):
$35 / 

person (men welcome too!)

$10 / Women's Leadership Council members
WE'RE SORRY - REGISTRATION IS NOW CLOSED.
Questions? Email community@uwlc.org
Click here for an event flyer!


P.S. -
 Our Women's Leadership Council adopts a new non-profit agency to support during every Speaker Series event. In honor of Domestic Violence Awareness month in October, we've selected
 Forbes House. 
Given this, we are asking all attendees to join us in support of Forbes house by bringing needed items to donate. Items Forbes House are in need of include: 30 gallon and 13 gallon garbage bags, paper towels, toilet paper, laundry detergent pods, dishwasher detergent pods, and disinfecting wipes. Please note, this is completely voluntary and not a requirement. We're simply hoping to join together to lend a helping hand to 
Forbes House, the first and only domestic violence shelter in Lake County. Forbes House provides services specific to the needs of all domestic violence victims.  Their confidential approach includes 24/7 helplines, emergency shelter, family and legal advocacy, children's counseling, adult and children's support groups, life skills and therapy opportunities, an aftercare program plus community education and outreach. Thank you for your consideration.
---
Jennifer Brunner serves as one of 8 state appeals court judges of the Tenth District Court of Appeals located in Franklin County, Ohio; she previously served in elective office as a Common Pleas Judge (2000-2005) and Ohio Secretary of State (2007-2011). In 2008 she received the bipartisan John F. Kennedy Profile in Courage Award for her public service. In 2010, Judge Brunner was a candidate for the United States Senate. Previously, she was a principal at Brunner Quinn just prior to being elected to her current judicial position. Having founded that firm in 1988, Judge Brunner holds 17 years private law practice experience as well as state government experience in the Ohio Senate and the Secretary of State's office as a staff attorney.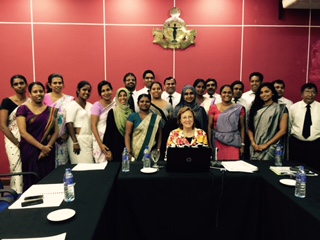 Judge Brunner has assisted foreign governments with rule of law and self-governance matters, including anti-corruption and judicial reform consulting in the Republic of Serbia, election observation in the Arab Republic of Egypt and providing legal training in the Socialist Republic of Sri Lanka.
Judge Brunner has been married to attorney Rick Brunner since 1978, and they have three adult children and two grandchildren. Born in Springfield, Ohio, she has spent her formative and adult years in Columbus, Ohio, graduating from Columbus public schools, from college at Miami University of Ohio, cum laude, and from law school at Capital University Law School, with honors.
She enjoys her family, art, music, writing, traveling and the family pets. She is the author of a memoir entitled, Cupcakes and Courage, about growing up in Ohio, her experiences in public life and her 2010 U.S. Senate campaign.